Each season has a couple stand out trends that quickly trickle down from the runways to the store. This fall the most obvious runway-inspired trend is the oversized, slightly chunky turtleneck.
Considering how cozy and wearable this look is in real life, I'm fully embracing the trend. But, there are just so many options to choose from. Saks alone has over a dozen designer versions of the oversized turtleneck. A lady could get lost trying to find the just right sweater. So, in the interest of all of our sanities, I systematically waded through a range of online shopping destinations to find seven truly stand-out turtlenecks. Check them out…
I don't know why I'm surprised by this, but this ultra-affordable Zara turtleneck might just be my favorite of the pack. I love the light biscuit color and the use of the purl stitch, which is uncommon among this season's sweaters.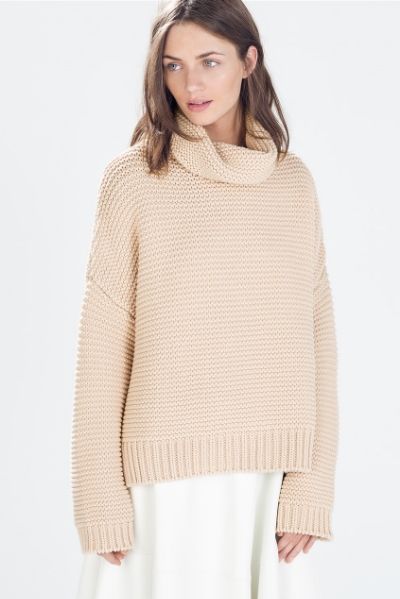 → Buy the Zara High Neck Sweater, $79.90, at zara.com.