--By Kim Moshtaghi
Summer time fashion can be hassle free. Sun kissed tans look lovely with fun, stylish patterns. It's an easy way to liven up any look and it requires minimal make up because the blast of pattern will speak volumes while everything else can (and should) be maintained at a low-key level. This is the beauty of summer time -- keeping it fresh and letting your beauty shine along with some eclectic patterns.
Let's jump into a crazy but gorgeous curve hugging number. Pair this ultra sexy dress with some sharp stilettos and you'll be the "it" gal at the party. Perhaps you can also class it up with a sophisticated strappy pair to balance out this dress's over the top personality. The orange and blue spray paint look really gives this dress a powerful and gorgeous contrast. The cutout patterns on top in midsection differentiate this dress from the rest.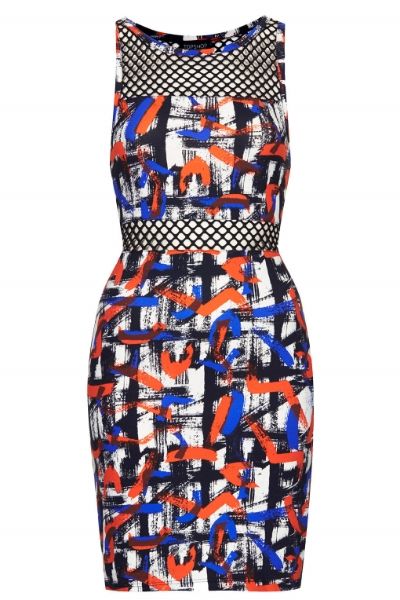 → Buy the Topshop Airtex Bodycon Dress, $55.00, at us.topshop.com.