In case you missed the big online shopping news last week, much-loved Swedish retailer & Other Stories finally launched their US online store. Fashionistas coast-to-coast rejoiced. This store is a treasure trove of mid-priced style finds that look super high-fashion.
Honestly, I'd have zero problem replacing my entire wardrobe with finds from & Other Stories. Their selection is that fabulous. But, in the interest of creating useful post, I narrowed my focus to shoes. Gorgeous, wonderful shoes. I carefully reviewed the 150+ pair currently available on the new US-facing site. Here are my top picks…
The reptile texture on these leather flats is heavy on the white detail, which is fairly unique among faux reptile finishes. I like that. If you are going to emboss leather, go for a reptile that doesn't exist in real life.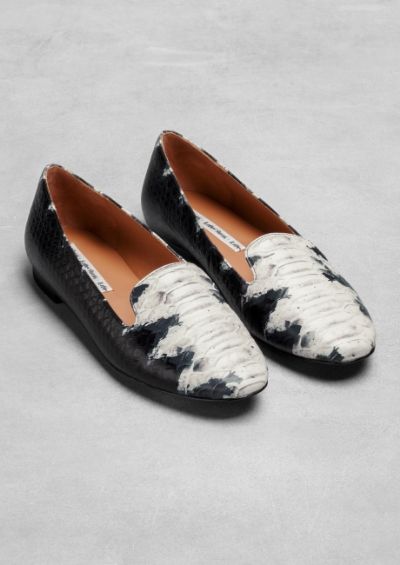 → Buy the & Other Stories Anaconda Slippers, $120.00, at stories.com.