--By Kim Moshtaghi
I am not a fan of store catalogs. Not only are they a waste of paper, but because they try to address such a large audience, I also feel like I can only look at one page before I'm over it. This season's BCBG catalog was an exception, however. I looked at every page and loved what I saw. It was innovative and eclectic, which is what this season should be all about.
I started thinking about sheer, and how a little sheer can go a long way. Covering areas that needn't be exposed is when sheer comes in handy. Whether you don't like your arms, want to expose your legs only so much, or want to avoid too much visible cleavage, sheer is your answer. Sheer brings an element of mystery to and changes the whole perspective on any piece of clothing.
The BCBG catalog proved to be a great gateway to sheer land. The best part was it was all in one place, meaning I didn't have to search through countless other catalogs and put my filter in overdrive. BCBG's clothing is beautifully designed and reasonably priced, too, which is great during a season when your wallet can really take a hit.
First up is a flawless floor gown in what they call Persian Blue. The dress is V-neck with cutouts in the waist and back. The cutouts are elegantly done and the otherwise mini dress is made floor length with the help of sheer. Unfortunately, the smaller sizes in this dress are no longer available.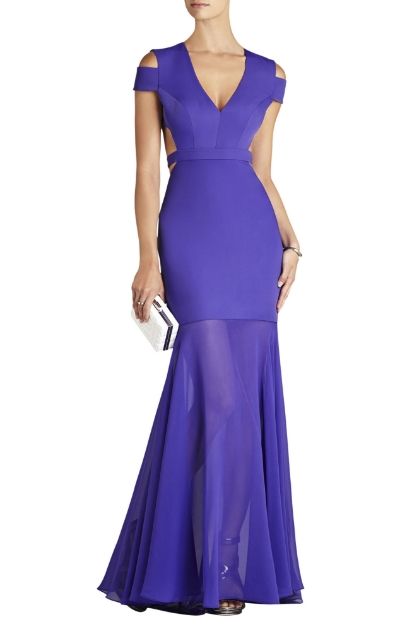 → Buy the BCBGMAXAZRIA Ava Cutout Gown, $268.80 (was $448.00), at bcbg.com.