--By Kim Moshtaghi
Gold is the color of luxury and also a symbol for wealth. Gold colors can highlight your cheekbones and your body. Although some people think the color gold drowns out their skin color, or only works well with certain skin-types, I promise someone has made a shade of gold that will work for your skin tone. If you don't trust wearing gold colors, then give gold a whirl with your accessories!
My first feature is a paisley design. Paisley is still hot and it looks beautiful with this tall skirt. Plus, the stretchy material and gorgeous pattern makes this an unbeatable option. The color scheme is stunning and seductive, which makes it a perfect holiday accessory. Whether you wear this over leggings or just as is, it's a great way to enter a room.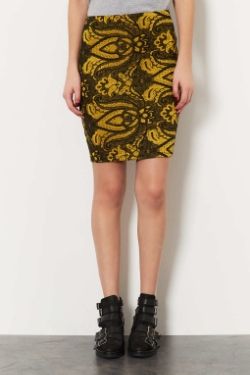 → Buy the Topshop Tall Gold Paisley Skirt, $52.00, at us.topshop.com.