--Guest Post By Emma
We know how you feel: summer is just around the corner, but your limbs are still milky pale from the winter. In times like this sunless tanning can truly be your saving grace – alternatively, it can be your worst enemy if it's not done correctly! Here we take a look at the most common self tanning mistakes to avoid so that you can be more Bronzed Betty than Streaky Sue when it comes to exposing your skin for the summer...
Streaks
Streaks are all too easily created, but are pretty hard to get rid of. Prevention is better than cure, so ensure that you allow plenty of time to get your application right. Use wide, sweeping motions that overlap each other, as this works to apply your colour while buffing it at the same time. It is helpful to use a tinted formula that shows you exactly where you have already applied your tan so that you don't overload certain areas with colour. When you are completely bronzed, lightly buff the skin all over with a dry tanning mitt to ensure that it is all worked in properly. Avoid water for a few hours after application.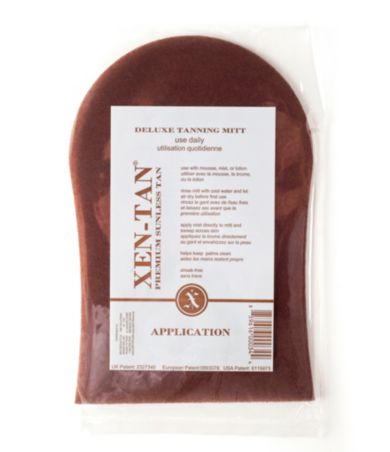 → Buy the
Xen-Tan Deluxe Tanning Mitt
, $7.00, at dillards.com.
Dark Patches
Dehydrated skin absorbs fake tan more readily than skin that is properly moisturised, so if you have scaly patches of rough and dry skin these can appear darker than the rest of your body. Avoid this by giving your skin a good scrub down in the shower, and follow up with a liberal application of hydrating body moisturiser a day before you intend to apply your sunless tanning product. It is important to do this the day before as the moisturiser will have had a chance to sink in properly, preventing it from acting as a barrier and stopping your tan from absorbing properly.
→ Buy the
Bliss Blood Orange+White Pepper Sugar Scrub
, $36.00, at sephora.com.
"Tan Hand"
It's an age-old problem. You've applied your tan using a mitt/ gloves/ makeshift applicator, and the product has seeped through and given your palms a deeply bronzed glow – the dreaded "tan hand". There are a few ways to avoid this. When using a mitt, wear latex or plastic gloves to ensure that hands are doubly protected. If you cannot avoid contact with the product make sure you wash your hands immediately afterwards, and if you have left it too long and your hands are already stained, use an abrasive hand wash. If the tan refuses to die down, do not worry too much – thanks to perspiration and constant use it should fade within a day or two.
→ Buy the
St. Tropez Tan Remover
, $18.00, at sephora.com.
Orange Tone
Avoid an orangey tone by opting for a product that is formulated with a green tint. If you have already applied your tanning product and it is more orange than you expected, try showering or bathing as soon as possible. Not only will this wash away some of the colour, but it will also lighten your tone by plumping your skin cells up with water and diluting the orange pigment.
→ Buy the
Xen-Tan Mousse Intense Self Tanner
, $29.00, at nordstrom.com.
Too Dark/ Too Much
If your overall colour is much darker than you were anticipating, invest in an AHA (alpha hydroxyl acid) rich skin lotion. With their low concentration of acids, AHA lotions work as a mild chemical peel and exfoliate dead skin cells. This should take away some of the dark pigment in an even and gentle way.
→ Buy the
Aqua Glycolic Hand and Body Lotion
, $19.96 (was $24.95), at drugstore.com.
_______
Emma writes for Escentual.com, a British skincare retailer specialising in high quality brands like Clarins and Guerlain.